2018 Volkswagen Passat
The 2018 VW Passat is Designed for Successful Family Travel in Charlotte
When you think of a sedan that has been designed to fit a family's specific needs, the 2018 VW Passat should be one of the first mid-sized cars that comes to mind. That is because this new Volkswagen model, which you can be introduced to here at Carolina Volkswagen in Charlotte, comes with a strong safety reputation, accommodation amenities and practical to use advanced technology. It is even hyper efficient, allowing you to stick to your busy carpooling agenda without issue.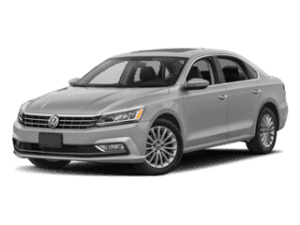 Supported with 34 miles per gallon highway and 23 miles per gallon fuel economy on city drives, the 2018 VW Passat can get you to where you need to be around Matthews NC and Concord NC with very minimal distractions. The standard 1.8-liter turbocharged engine can help you accelerate in a timely manner, with a V6 engine option that creates an impressive 280 horsepower to offer more burst. Known for being a NHTSA five-star safety rated vehicle, you can feel reassured behind the wheel, adding in driver-assist feature options such as blind-spot monitoring and park assist to give you additional perspective.
Featuring best-in-class rear legroom and a hands-free trunk that you can easily access for cargo storage, you will appreciate the accommodations that the 2018 VW Passat incorporates. Huntersville and Monroe NC commuters can even enjoy features such as dual-zone climate control, App-Connect on a touchscreen interface, and satellite radio for your favorite sports channels and music stations. Survey these amenities, and more of what makes the 2018 VW Passat such an appealing mid-sized sedan, here in our Charlotte showroom today.
Leave a Message Below